We all know that change can be hard, especially when it comes to creating a big shift in either our thinking or the way we do things. You'll likely have referenced or used many shapes over the years, to create, to learn, to lead and manage change. From the Responsibility Triangle to the 'line' for conscious leadership, maslow's hierarchy of needs domain based leadership models in hexagons to flow charts and processes for innovation. We use shapes to create visions to help manage and navigate change.
Wonder and Wander have created a digital toolkit for sustainable innovation to move from managerial leadership to evolutionary leadership. Simple tools, worksheets, processes and games to create sticky and sustainable shifts in structure, function and behaviour for employees and organisations.
The 3 Cs triangle (an original Wonder and Wander tool) is a useful tool to help us self locate and navigate change alongside awesome tools like the PROSCI change management process.... Instead of following the full Prosci change management process today, we will adapt a simple triangle to help us identify and 'lens' the proposed changes or innovations/ideas and understand the environment in a quick and easy way.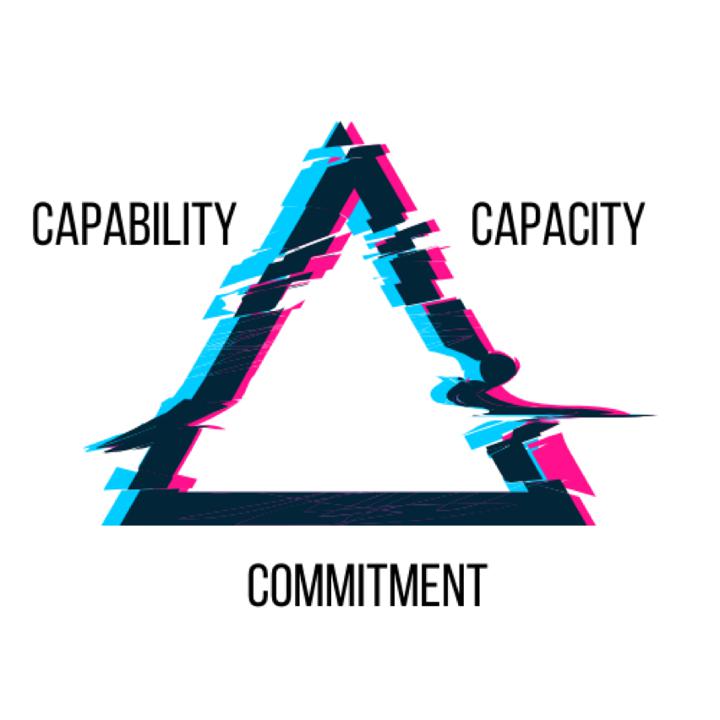 The Wonder and Wander Triangle for Sustainable Change
Capability - we ask - do 'we' or 'i' have the capability (skills/resources) to make and sustain this change?
Capacity - do 'we' or 'i' have the capacity (space/time) to produce and sustain this change?
Commitment - are we actually committed to making this change? No amount of time, resources, skills or space can sustain change if we are not committed to it.
If one of the 'sides' of the triangle is missing, we identify an area for us to consider as we move forward with proposed changes. If we don't have the capability, we can upskill, if we don't have capacity we hire or make time/space and if we don't have the commitment - we may need to shift our mindset or reframe the changes to understand the leverage points/buy in to create sustainable change. We can use the triangle to create a high level change impact assessment to quickly vision the idea or impact and understand the potential energies at play.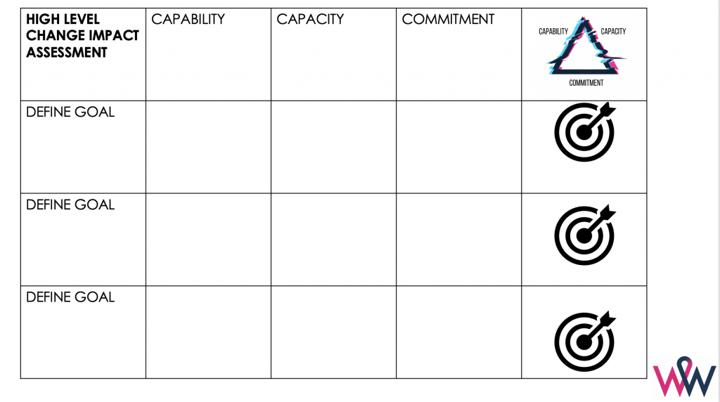 It is worth looking at the Prosci change management process that you may be familiar with as a more detailed process to manage complex change.
We find that the language we use when managing change is part of the change itself. Building on the Core Principles of Appreciative Inquiry, which describe the basic tenets of the underlying Ai philosophy, were developed in the early 1990's by David Cooperrider and Suresh Srivastva (Cooperrider's advisor at Case Western Reserve University) and serve as the building blocks for all AI work. The five original principles are: Constructionist, Simultaneity, Anticipatory, Poetic, and Positive.
---